Boutique / Jasmin
Installation Time: 2 -4 days
Boutique / Jasmin
Installation Time: 2 -4 days
Boutique / Jasmin
Installation Time: 2 -4 days
Experience the Ultimate Boutique Closet Transformation
OrganizIT! Boutique Closet is an innovative way to customize your closet and make it a fully functional part of your home. Our expert designers build each closet with a unique plan that utilizes every inch of space, from drawers and shelves to hanging rods and accessories. We offer a variety of materials and finishes, like wood, metal, and laminate, to suit any style preference. Plus, we use only the highest quality materials for added durability.
Our team understands how important it is for you to have a closet that not only functions optimally but also looks pleasing. We work closely with you to ensure that your boutique-style closet meets both your storage needs and aesthetic goals. With our detailed planning process and experienced installers, you can trust that your custom closet will look great while providing the best possible organization system for all your belongings!
Ready for a closet makeover? Embrace the transformation with OrganizIT! We guarantee to revolutionize your space, turning a plain closet into an elegant boutique closet that not only stores but showcases your wardrobe and accessories.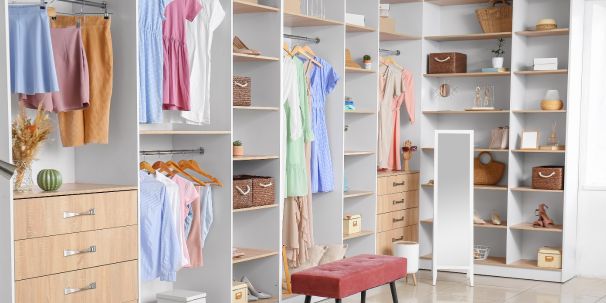 Revel in our Tailored Solutions
There are no one-size-fits-all solutions at OrganizIT! We offer a bespoke service that creates boutique closets tailored to your lifestyle and storage needs. Whether you require a specific section for your designer bags or a dedicated space for your shoe collection, we have you covered.
Elevate Your Lifestyle with Aesthetics
Imagine a closet where every item has its place, and there is never a frantic search for that one elusive item. That's the beauty of our boutique closets – they are designed to bring order to your life, while enhancing your home's aesthetic appeal.
Relish the Luxury of a Boutique Closet
The comfort of a personal touch, the convenience of your home. Our boutique closets provide the ideal balance of quality and functionality. They are more than just a storage space; they are an expression of your unique lifestyle.
Choose OrganizIT! for Your Boutique Closet Needs
Are you tired of your cluttered and disorganized closet? Do you dream of having a boutique-style closet that is both stylish and functional? If so, then OrganizIT! is the perfect solution for you.
We are the industry leader in custom closet design and installation in Los Angeles, California. We offer a wide range of services, including:
Free in-home consultation: We will come to your home and assess your needs. We will then create a custom design that meets your specific requirements.
High-quality materials: We only use the highest quality materials in our closets. This ensures that your closet will last for many years to come.
Innovative design: We are constantly innovating and coming up with new ways to improve our closet designs. This means that you can be sure that your closet will be both stylish and functional.
Let us transform your closet into a luxurious and organized boutique haven.
Contact us today to schedule a free consultation and see how we can help you create the closet of your dreams.